Luther Burbank Home & Gardens is now working with eScrip.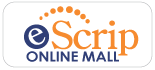 Shopping online this year?
Start by clicking on this button and following the links to your favorite stores and LBH&G will get a percentage of all sales. You
do not
have to register with eScrip to support us – you just have to start your shopping here.
What is the eScrip Program?
Participating merchants contribute each time you make a purchase using your grocery club or registered cards.  There are no receipts to collect, no vouchers or certificates to buy, no hassles for you – and every purchase counts. Schools have been using this program for years – and now LBH&G is too.
How Does it Work?
eScrip has created a system that rewards customer loyalty by contributing a percentage of purchases made by participating supporters. Supporters & Friends are encouraged to register their grocery club cards, and existing credit/debit cards.  A percentage of all purchases made at eScrip merchants will be given back to LBH&G.
Register with eScrip today!
Visit www.escrip.com
Search for "Luther Burbank Home and Gardens" (note: no ampersand) or search by our Group ID # 500029387
Register your grocery loyalty and credit/debit cards
OR contact the office for a sign-up form
Participating Merchants
Here's a partial list of participating merchants. You can view the full list here.
Oliver's Market, Food 4 Less, Glen Ellen Village Market, Petaluma Market, Sonoma Market, San Francisco Chronicle, & Orvis. (Safeway is part of the eScrip program, but only donates to schools.)